Eitan Ben-Moshe
Twilight Falcons
Curated by Avi Pitchon


Exhibition open:
19.1.13 – 10.2.13
Sat. – Sun. 12:00 – 18:00


Private view:
Thursday January 17th, 19:00 – 21:00


Eitan Ben-Moshe's 'Ozone Flutes', borderline human-made and organic looking tubes drilled in swift, nonviolent urban guerilla interventions into walls around London anoint the ordinary with the extra. In his new installation (part of an ongoing series), Ben-Moshe accentuates the welcome typo in London's harsh topology that is xero, kline & coma, a happy accident tearing into its space-time continuum. This basic-yet-crucial scenery establishes a ritual transition, like the red curtains of the cinema theatre or the wooden doors of a fairground's house of horrors. A little pond littered with derelict alien looking fauna. A rickety old stool offers unstable rest – or perhaps it is an accessory left behind following the conclusion of some personal, idiosyncratic rite. An environment in flickering superposition, complementing the penetration of the real with its suggestion of parallel probability, entangled with the one we're trapped in, a waiting room, a threshold, a wardrobe, a wormhole. Limbo.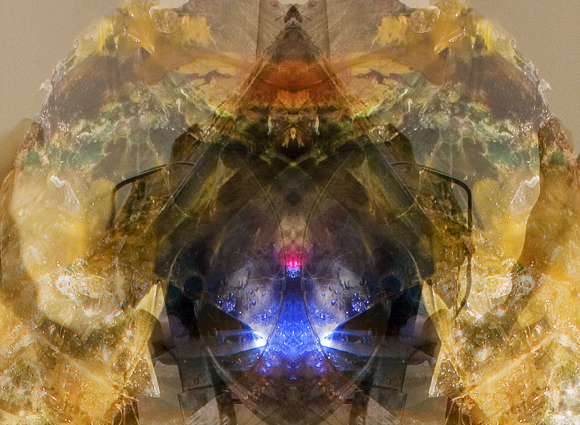 Accompanying the installation, the film 'The Ozone Flutes' documents the nomadic, transient, psychogeographical Ozone Flute workings. Appropriating public access TV aesthetics, it not only follows the actions but introduces a cast of characters who guided Ben-Moshe, centring on an English shaman woman from Finchley who provides the artist with an occult, energetic grid of the city. In the process, the artist becomes a messenger, placing the objects, now charged with a shaman's forcing of the hand of chance, at points of morphogenetic importance. Did the flutes contribute to an unlocking of a collective, feral will to power expressed through the ensuing London riots? Can that will be harnessed more directly and constructively?
Eitan Ben-Moshe planted and presented his Ozone Flutes throughout 2011, culminating in the Anthony Gross curated Deptford X Public Art project. He has exhibited in solo and group shows in Tel-Aviv, Jerusalem, Amsterdam, Basel, Berlin, Istanbul and the Venice Biennial. He lectures in Fine Art at The Bezalel Academy of Art and Design, Jerusalem.
Avi Pitchon is an Israeli writer and curator living and working in London. In 2010 he curated the first Middle-Eastern retrospective of Slovenian visual arts group IRWIN. He has curated shows in London, Berlin, Tel-Aviv and Jerusalem, contributed to numerous publications including a book accompanying Yael Bartana's recent Venice Biennial appearance, an artist book on Keren Cytter published by KW Berlin, and Manifesta 7's companion book. He has also contributed to magazines and periodicals, including Terrorizer, The Wire, Vice and Haaretz.


More information here.
supported by: